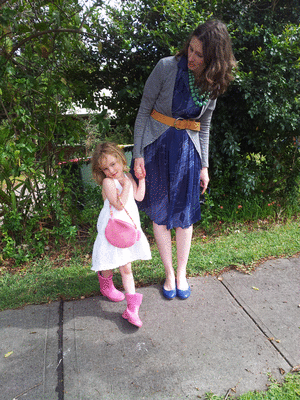 Oh man. It's cold and miserable in Sydney right now. And I am sick. Couple cold and miserable (x2) with sick = I want my jeans. Or pyjama pants. And bed.
But I can't just do that. I'm committed to Frocktober and I want to raise as much money as I can to help fund research into ovarian cancer. So sunray pleats it is. And it paid off. A stranger called out to me today and told me I looked lovely. I was a bit dumbfounded. I'm sick. I'm cold. And I want my mum jeans. (Although Mum I'd love to see you too, goes without saying.)
Tiny opted for broiderie anglaise and some gumboots. A classic combo in anyone's books, I'm sure.
Today's outfit:
- vintage dress
- Country Road cardi
- *that* belt (Moges, you see that?)
- Country Road shoes
- MimCo sunglasses
- Elk necklace
There's still time to sponsor me! We're fundraising baby! To date 258 fundraisers have raised $83,334.87. Frock on ladies!